Marriage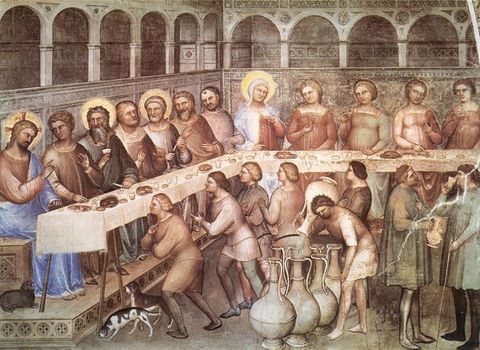 The Sacrament of Marriage is a partnership for life between a man and a woman in Christ. The special grace that is received by the couple is intended that they "help one another to attain holiness in their married life and in welcoming and educating children." LG 11
If an engaged couple wishes to get married at St. John Church, the requirements are:
1. One person must meet the requirements of a parishioner or be a child of a parishioner.
2. Schedule an appointment with a priest or deacon at least 6 months before intended wedding date.
3. Complete all paperwork plus schedule marriage preparation.
4. Set wedding date.
5. Meet all preparation requirements.
6. Plan the wedding liturgy.
If a couple is already civilly married and wishes to have their marriage sacramentized, follow the requirements above.
For more information or for answers to questions that may arise, please contact the Parish Office at 972-875-2834.
Set the Date for Your Wedding
– only after the initial interview, FOCCUS, meeting with the priest, and you have an appointment scheduled with the counselor
Click here to download the appropriate Facilities Use Request form.
Engaged Encounter
Click here for a link to the Diocese of Dallas' page with downloads on Engaged Encounter and Living Your Marriage as a Sacrament.
Click here for the Diocese of Dallas' calendar of retreats. Click on the retreat you want to check availability.
Marriage Preparation Class
The Marriage Preparation Class that is held within the parish and that is required of all couples getting married will be held over the course of three sessions.  Each session is a month apart from the others.  Couples must attend all three sessions in order.
The Marriage Preparation Course is held in the following sets of months:
December, January, February
March, April, May
June, July, August

September, October, November
Each class session lasts approximately 3 1/2 hours.

Natural Family Planning
Click here to find a Natural Family Planning course in the area. These courses are sponsored by the Couple to Couple League. It is best to put in your zip code and then search within 50 miles.

Marriage Ceremony
Click on each of the following for the options for use at a Catholic wedding. The bride and groom may choose one of each.  They may be a bit hard to separate on the website that you will be going to.  Just watch the numbers designating the different readings.  Any commentary provided is to help people deciding between readings to understand the readings and will not be used in the wedding ceremony.  The website is put out by the United States Conference of Catholic Bishops.
(Painting: Giusto de Menabuoi, Marriage at Cana – At the wedding at Cana, Jesus worked the first of His public miracles, and He did so at the intercession of His mother.  Jesus turned the water in the wine, and if we put ourselves and our marriages in His care, He will transform our relationships into ones that will bring us closer to Him and to the Father.)