Eucharist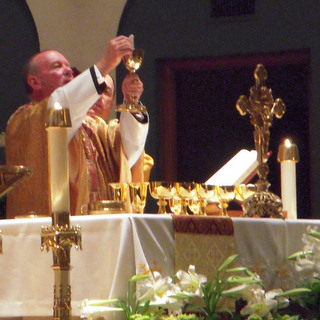 The Eucharist is "the source and summit of the Christian Life." LG 11 Celebration of Eucharist occurs within the Mass. The Mass consists of two parts — the liturgy of the Word and the liturgy of the Eucharist. In the liturgy of the Word, the Scriptural readings are proclaimed and explained, and in the liturgy of the Eucharist during the Eucharistic prayer, Christ becomes present under the appearance of bread and wine. The church encourages the faithful to receive Holy Communion at every Mass if they are not in a state of mortal sin.  Those who are not in full communion with the Catholic Church and those who need to go to confession should not receive Holy Communion.  The faithful are dismissed but sent forth to be Christ to others by sharing their time and talent. Come and celebrate with us each day as we hear the word and share in the Eucharist.
Weekday Mass takes place every Monday through Friday in English at 6:30AM and 12:05PM and at 6:30PM on Mondays and Wednesdays.  Weekday Mass is celebrated in Spanish every Tuesday and Thursday at 7:30PM.
Our Sunday liturgy schedule is Saturday, 5:00PM, and Sunday at 7:00AM, 11:00AM, and 1:00PM (Spanish).
The Blessed Sacrament is reserved in the tabernacle and is available for private prayer and reflection daily.
Exposition of the Blessed Sacrament takes place on all Wednesdays after the 12:05PM Mass until 5:00PM.
Eucharist to the Sick & Shut-in
Holy Communion is brought to parishioners who are unable to attend Mass. Extraordinary Ministers of Holy Communion bring communion to persons in the hospital, nursing homes, and to those who cannot leave their homes. Homebound visits are made on the first Friday of the month by a Priest. Please call the Parish office to make this arrangement.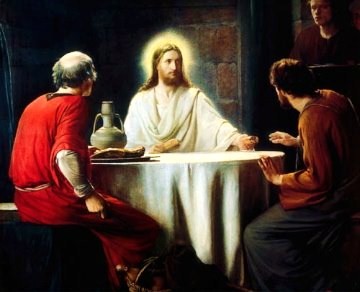 [Painting: Supper at Emmaus, Carl Bloch.  In Luke 24, we read of the appearance of the Lord to the disciples on the road to Emmaus.  Notice that He proclaims the Gospel to them and then they recognize Him in the breaking of the bread.  We should also recognize Christ in the breaking of the bread.]