Bulletin
Parish Bulletin
Click below on the version you wish to see to download or view the Parish Bulletin as a pdf document.
January 21, 2018 – Third Sunday of Ordinary Time
January 14, 2018 – Second Sunday of Ordinary Time
January 7, 2018 – Epiphany of the Lord
December 24-25 and 31, 2017, and January 1, 2018 –

Fourth Sunday of Advent

, Christmas, Holy Family Sunday, and Solemnity of Mary, Mother of God
St. John Nepomucene Magazine
Click on the picture of the magazine or on the date below it to download a pdf version of it. This pdf version has both internal and external links. Although they may not show up on all pdf viewers, internal links to other material in the magazine are indicated by blue underlines under words, and external links to websites are indicated by red underlines under words. Just click within the box to go to that information.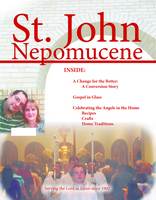 If you would like to donate to the publication and distribution of St. John Nepomucene Magazine, you may do so below.