What's in your Catholic Toolbox?
There are tools that can make it easier to understand and live your Catholic Faith. Just like using the right tool makes any other job easier, using the tools of the Faith can make living it easier.
What's in your Bible Toolbox?
There are tools that can make it easier to understand the Bible. This, in turn, will make it easier to apply what you are learning in the Bible to living your faith.
Catholic Toolbox and Bible Toolbox Talks
We are holding a series of talks designed to give you the tools to live, explore, learn, and grow in your Faith. These talks are being held on certain Wednesday evenings in room 101 in the compound. You can come to any of them that you wish to come to, and each is a stand alone talk, so if you miss one or more, you can still come to any others you want to come to. Handouts and other materials will be posted here after the talks.
Schedule
| | |
| --- | --- |
| Date | Topic |
| 10/4/17 | Tips for Reading the Bible |
| 10/18/17 | The Book of Genesis |
| 11/8/17 | Daily, weekly, monthly living the Faith |
| 11/15/17 | The Book of Exodus |
| 12/6/17 | 4 Ways of Meditating on Sacred Scripture |
| 1/3/18 | Books of Leviticus, Numbers, Deuteronomy |
| 1/17/18 | How to use the Catechism |
| 2/7/18 | Rosaries, Chaplets, Novenas, etc. |
| 2/21/18 | The Gospel according to Matthew |
| 3/7/18 | Spiritual reading classics |
| 3/21/18 | The Gospel according to Mark |
| 4/11/18 | Gestures of the Mass |
| 4/25/18 | The Gospel according to Luke |
| 5/2/18 | Catholic pilgrimages in Texas |
| 5/16/18 | The Gospel according to John |
Handouts and Materials
Click on one of the links below for the PDF of that topic.
Tips for Reading the Bible
Order of Books of the Bible and Prayers for Reading the Bible
The Book of Genesis
Daily, Weekly, Monthly Living the Faith
Spiritual Growth Discernment Sheet
Prayers – Morning Offering, etc.
Spiritual Disciplines Visual Log

Retiro de Life Teen:
La inscripción para nuestro retiro anual de invierno para Life Teen será 19-21 de Enero, 2018 en el rancho de Sky Ranch en Van TX. Esta es una maravillosa oportunidad para su hijo/a adolescente de unirse a más de 100 de sus compañeros para adorar al Señor y crecer en relación con Él.
El costo del retiro es $150.
El costo para las inscripciónes anticipadas hasta el 5 de Noviembre es $125.
Los pagos por linea se puden hacer aqui:

RCIA (Rite of Christian Initiation for Adults) is the process by which adults become Catholic.
If you or anyone you know is not a fully initiated Catholic and wishes to learn more about the Catholic Faith, RCIA is what you are looking for. In the RCIA process, we learn about the basic teachings of the Catholic Faith.
This process is designed to lead to initiation into the Catholic Church through the sacraments of Baptism, Eucharist, and/or Confirmation. In coming to the RCIA sessions, though, there is no obligation to join the Church.
Click here to download the Registration Form. These forms may be returned to the Parish Office. The forms are also available at the Parish Office.
For more information, contact Seth Wright at the Parish Office: 972-875-2834.
The following schedules apply to the typical RCIA participant. Circumstances may mean that these do not apply to certain participants. These schedules are updated as changes are made, so check back occasionally for the newest information.
Pictures

– click on the link below to view pictures from these RCIA events
Class Handouts
Creation
The Fall
Christ and Redemption
The Holy Trinity
God the Son
Jesus: The Way, the Truth, and the Life
The Holy Spirit
The Communion of Saints
Mary and the Saints
Death and Judgment
Heaven, Hell, and Purgatory
The 2nd Coming and Life Everlasting
The Church
Servant of the Servants of God
Sacred Scripture and Sacred Tradition
Can the Bible be taken literally?
Liturgical Year
Vocations
• Religious Life (Monks, Nuns, Friars)
• Holy Orders (Bishops, Priests, Deacons)
Celibacy for the Sake of the Kingdom
• Married Life
What is a Sacramental Marriage?
Marriage, Sexuality, and Contraception
Theological Virtues
Responding to the Great Mysteries
Commandments 1-3
Veneration of Holy Images: Idolatry?
The Sabbath and Sunday Worship
Confession/Reconciliation
Continual Conversion and Penance
Examination of Conscience before the Sacrament of Reconciliation
Helps in Using the Sacrament of Reconciliation
Commandments 4-10
Lent
Lent: The Period of Purification and Enlightenment
Christ Renews His Parish or CRHP (pronounced "Chirp"), is a spiritual renewal experience which brings adult parishioners together in small groups in order to deepen their relationship with Jesus Christ and each other. Since its beginning in 1969 in Parma, Ohio, Christ Renews His Parish has proven to be an effective instrument for spiritual growth in hundreds of parishes across the country. St. John started sponsoring weekends in the Fall of 2007.
What happens on a CRHP Weekend?
The substance of the weekend is the presentation of a number of talks in which individuals share their faith stories with the participants. Group discussion and response are invited following each presentation. Opportunities for Scripture sharing, Reconciliation, and Eucharist are provided throughout the weekend.
Click here to download a registration form. – If you want to submit the form electronically, fill out the form, save it to your computer, and then attach it to an email.
You may email this form to Seth Wright at sethw@stjohncc.net or drop it off at the Parish Office.

Life Teen Winter Retreat:
Registration for our annual Life Teen Winter Retreat will be January 19-21, 2018 at Sky Ranch in Van TX. This is a wonderful opportunity for your teenager to join over 100+ of their peers to worship of the Lord and grow in relationship with Him.
The cost of the retreat is $150.
Early registration price through November 5th is $125
Online payments can be made below: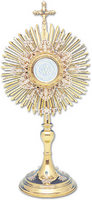 The Solemnity of the Most Holy Body and Blood of Jesus Christ celebrates the wonderful gift that we have in the Eucharist. Each year, in a tradition dating back to the 1200's in Europe, we process through the streets of town with the Blessed Sacrament. Those who live along the route and parish organizations are invited to set up altars. As the procession proceeds along the route, the priest stops at each altar and leads the people in prayer.
Here are some pictures from our 2014 Corpus Christi procession:
Below are some pictures from the 2012 procession:
In 2011, our parish celebrated this feast with one all-parish Mass. This Mass was a chance for the entire parish to get together to celebrate our Lord Jesus Christ as one. The only Mass this weekend began at 8:00 AM on the ballfield beside St. John Gym. This Mass was followed by a Eucharistic procession through the streets of Ennis. Thank you to all who joined us in celebrating Jesus who brings us all together into the one body of His Church.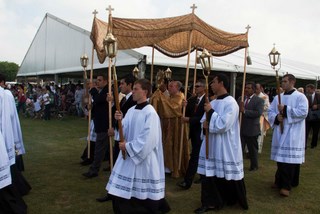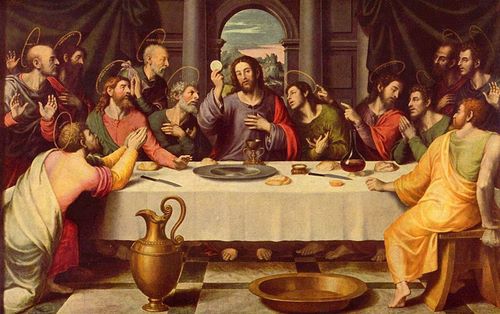 Mass was held inside a large tent. Below are some pictures from our Corpus Christi celebration. Below that are some pictures of the tent going up.
Novenas
You may wish to say this novena.
Short Novena for Corpus Christi

O Lord Jesus Christ, You who have given us Your precious Body and Blood to be our meat and drink, grant that through frequent reception of You in the Holy Eucharist, I may be strengthened in mind and body to do Your holy will. Amen.

Jesus in the Blessed Sacrament, have mercy on us.
Click here for a link to a longer novena.
Learn more about the Feast of Corpus Christi
Click here to read the article from the Catholic Encyclopedia about the history of the Feast of Corpus Christi on the New Advent website.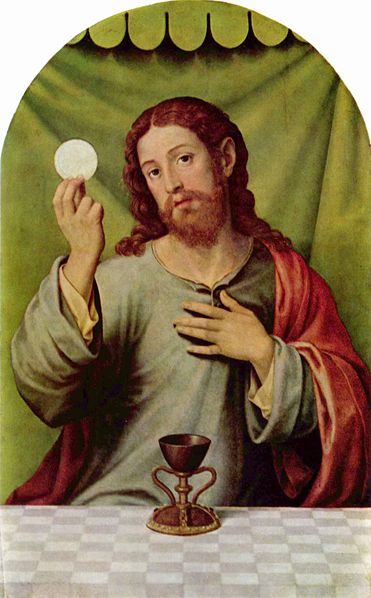 Here is the schedule for Holy Week and the Easter Triduum.
Masses are listed in bold.
Confession times are listed in italics.

Monday of Holy Week
6:00 am Confessions FJ
6:30 am Mass
After 6:30 am Mass Confessions FJ
12:05 pm Mass
12:30 pm – 1:00 pm Confessions FJ
5:30 pm – 6:30 pm Confessions FJ
6:30 pm Mass (English)
Tuesday of Holy Week
6:30 am Mass
12:05 pm Mass
12:30 pm – 1:00 pm Confessions FJ
Wednesday of Holy Week
6:30 am Mass
12:05 pm Mass
6:30 pm Mass (English)
6:00 pm – 9:00 pm Diocese Wide Confessions FJ & FA
The Triduum
Holy Thursday
6:00 pm Mass of the Lord's Supper (Spanish)
7:30 pm Mass of the Lord's Supper (English)

Good Friday
11:00 am – 3:00 pm (bus leaves and returns) Prayer at Abortion Clinic
12:00 pm – 1:00 pm Confessions FJ & FA

3:00 pm – 4:00 pm Celebration of the Lord's Passion – English
7:00 pm – 8:00 pm Celebration of the Lord's Passion – Spanish
Holy Saturday
9:00 am – 10:00 am RCIA practice
8:30 pm – 11:00 pm Easter Vigil Mass
Easter Sunday
8:00 am Mass
10:00 am Mass
1:00 pm Mass (Spanish)
Throughout the years, we have held many events that have brought people closer to God and brought them healing in their lives. Through Christ Renews His Parish retreats, parish missions (especially the Unbound mission with Fr. Isaac and Br. Malachy and Deacon Poyo's mission and follow-up small groups), the Frank Kelly healing night, and other events, many in our parish have experienced tremendous healing.
Now we have something special that is focused precisely on healing those deep lies that we take with us through life and prevent us from living the life of love that Our Lord calls us to.
St. John Nepomucene will be hosting a healing retreat put on by the John Paul II Healing Center. It will be held Thursday, April 20, through Saturday, April 22, including during the day on Friday. This is open to anyone, and there are a limited number of spaces available.
For more information and to register for this retreat, click here.
As part of their formation in the Faith, in showing the love of Christ to others, and in learning about how the Church works here on earth, our current RCIA candidates and catechumens (those adults seeking to enter the Catholic Church or to complete their sacraments) have chosen to work to raise funds to help build two village chapels in Bolivia for Catholics who have no place to hold Mass and worship.  Please consider helping them in this goal.
To go to the Aid to the Church in Need homepage, click here.
To go to the page describing this project and to donate directly to this project, click here.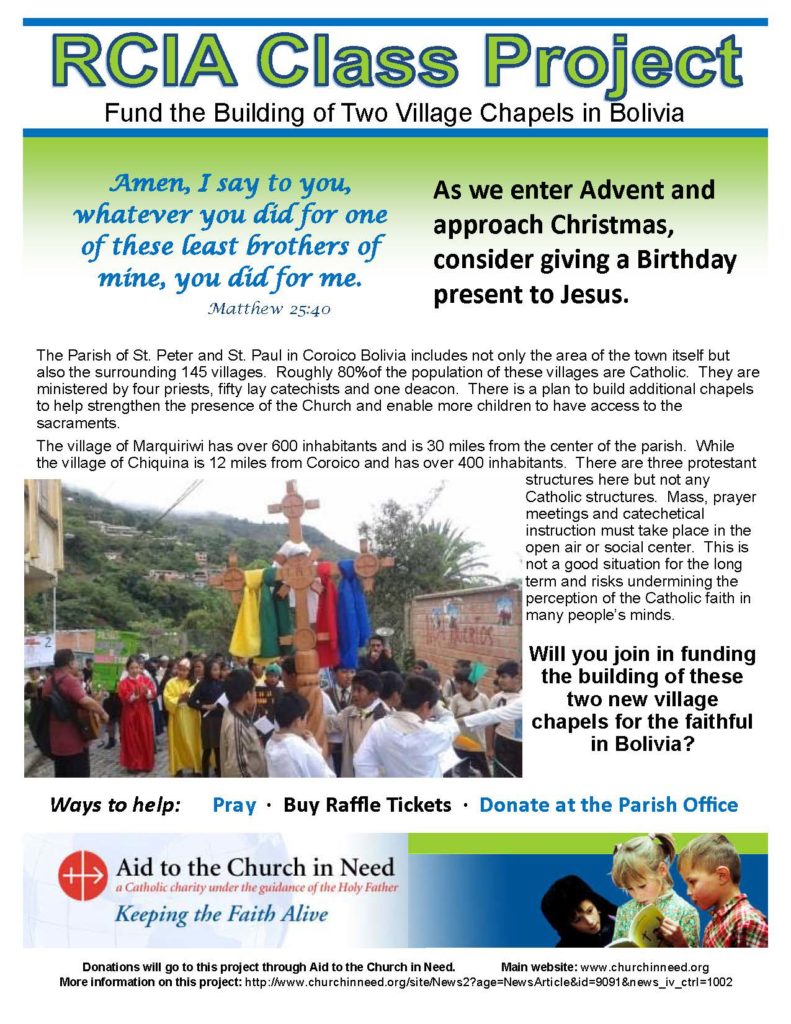 THANK YOU FOR GIVING THIS GREAT GIFT TO ONE OF OUR TEENAGERS!

Please follow the PayPal directions below to give the gift of a life changing experience to one of our students. The retreat cost per student is $150.
After we have received your donation, the Youth Ministry department will send you an email with a gift certificate to either give to a teen of your choosing or ask the Youth Ministry department to give to a teen in need.