Parish Leadership
We are blessed with a wonderful staff at St. John Nepomucene, that genuinely cares about our community and our parish. Take some time to get to know the staff!
Holy Spirit, Inspiration and Indwelling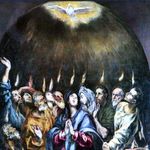 Click here for contact information.
St. John Nepomucene, Patron and Special Intercession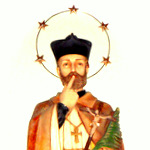 St. John was born in the town of Pomuk (later Nepomuk) in Bohemia around the year 1340.  After being cured of a childhood disease through the prayer of his parents, John studied for the priesthood in Prague and Padua.  After ordination, he was assigned to a parish in Prague where he gained a reputation as a great preacher.  King Wenceslaus IV heard of him and invited him to become the confessor for the royal court around the year 1379.  In 1393, the king asked what his beautiful wife had confessed, but John would not reveal her confession despite  the king's attempted bribes and actual torture.  Finally, the king had him burned, tied to a wheel, and thrown off a bridge into a river.  His body was found the next day, and he was immediately revered as a saint.  He was canonized in 1729 by Pope Benedict XIII.
Fr. John Dick, Pastor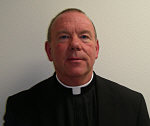 frjohn@stjohncc.net
Fr. Antonio Liberman Ormaza, Parochial Vicar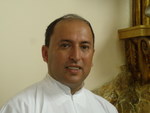 frantonio@stjohncc.net
Deacon Don Griffith
Dominic Tartaglia, Controller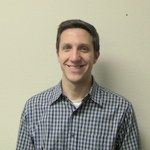 dominict@stjohncc.net
Joanna Gallegos, Parish Secretary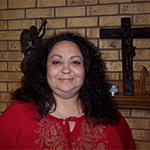 Maria Leos, Receptionist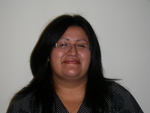 Hello, my name is Maria Leos.  I am the Bilingual Assistant at St. John Nepomucene Catholic Church.  I have been with the parish staff since April 30, 2003.  I am very pleased to be able to serve the parish community.  I was born here in Ennis and have been raised and am still living outside in the rural area of Ennis.  I am the oldest of four siblings in my family; my twin sister, one brother, my little sister, and myself.  I have attended Ennis schools, and I am a 2000 graduate from Ennis High School.  I have been happily married to Jose Roberto Leos for eight years now, and have two adorable children who God has blessed us with; their names are Robert and Ziara.  I have one niece from my side of the family and numerous nieces and nephews from my husband's side.  I am very thankful for all that God has given me.
Karen Waedekin, Safe Environment Officer
Seth Wright, Director of Adult Education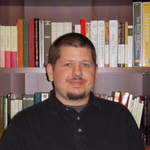 sethw@stjohncc.net
Stephen Thompson, Youth Minister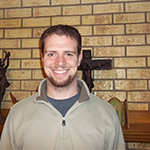 stephent@stjohncc.net
Keeping in mind he is a Youth Minister, click below for an additional image of Stephen.
Karim Sullivan, Director of Children's Education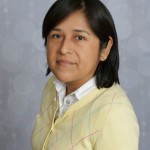 (972) 875-9650
Rosanna Baw, Children's Religious Education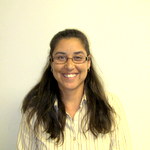 RosannaB@stjohncc.net
Jeff Johnson, Maintenance Supervisor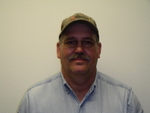 jeffj@stjohncc.net
Rose Cooke, Maintenance
Joel Suarez, Maintenance
Juanita Tapia, Maintenance