RCIA (Rite of Christian Initiation for Adults)
The Holy Spirit comes to us in a special way through the sacraments. If you are an adult wanting to receive missed sacraments or to join the Catholic Church, click here to learn more about the RCIA process.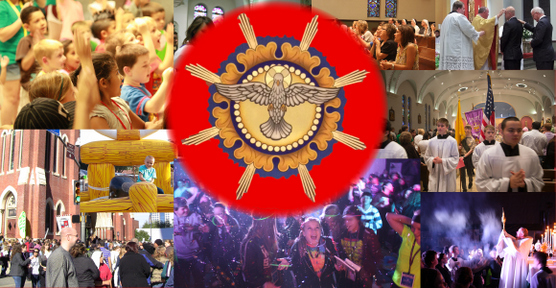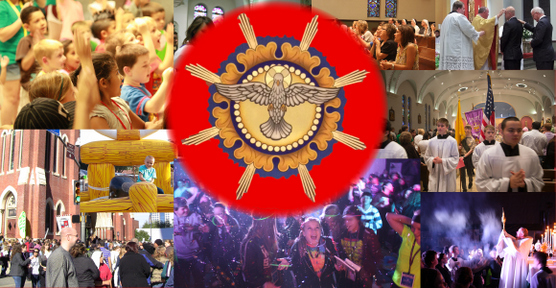 Steubenville Lonestar present by Life Teen registration: This is the second annual Steubenville Lonestar Conference happening in our backyard at the Irving Convention Center June 23-25, 2017. This is a great chance to join 5,000 other Texas Catholic teenagers in worship of the Lord and grow in relationship with Him. CLICK HERE for simple online registration for Steubenville Lonestar! The... [Read more...]

The Solemnity of the Most Holy Body and Blood of Jesus Christ celebrates the wonderful gift that we have in the Eucharist. Each year, in a tradition dating back to the 1200's in Europe, we process through the streets of town with the Blessed Sacrament. Those who live along the route and parish organizations are invited to set up altars. As the procession proceeds along the route, the priest stops... [Read more...]

Here is the schedule for Holy Week and the Easter Triduum. Masses are listed in bold. Confession times are listed in italics. Monday of Holy Week 6:00 am Confessions FJ 6:30 am Mass After 6:30 am Mass Confessions FJ 12:05 pm Mass 12:30 pm – 1:00 pm Confessions FJ 5:30 pm – 6:30 pm Confessions FJ 6:30 pm Mass (English) Tuesday of Holy Week 6:30 am Mass 12:05 pm Mass 12:30 pm – 1:00 pm Confessions FJ Wednesday... [Read more...]

Throughout the years, we have held many events that have brought people closer to God and brought them healing in their lives. Through Christ Renews His Parish retreats, parish missions (especially the Unbound mission with Fr. Isaac and Br. Malachy and Deacon Poyo's mission and follow-up small groups), the Frank Kelly healing night, and other events, many in our parish have experienced tremendous healing. Now... [Read more...]

RCIA (Rite of Christian Initiation for Adults) is the process by which adults become Catholic. If you or anyone you know is not a fully initiated Catholic and wishes to learn more about the Catholic Faith, RCIA is what you are looking for. In the RCIA process, we learn about the basic teachings of the Catholic Faith. This process is designed to lead to initiation into the Catholic Church through the sacraments... [Read more...]

As part of their formation in the Faith, in showing the love of Christ to others, and in learning about how the Church works here on earth, our current RCIA candidates and catechumens (those adults seeking to enter the Catholic Church or to complete their sacraments) have chosen to work to raise funds to help build two village chapels in Bolivia for Catholics who have no place to hold Mass and worship.  Please consider... [Read more...]
THANK YOU FOR GIVING THIS GREAT GIFT TO ONE OF OUR TEENAGERS! Please follow the PayPal directions below to give the gift of a life changing experience to one of our students. The retreat cost per student is $150. After we have received your donation, the Youth Ministry department will send you an email with a gift certificate to either give to a teen of your choosing or ask the Youth Ministry department to give to a... [Read more...]
Read More News Articles...